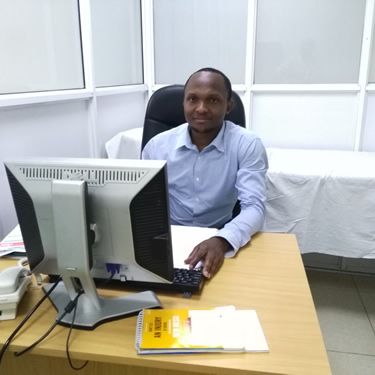 Dennis Munene - Clinical Medicine and Surgery Alumni
Class of 2013
"I made a decision to be enrolled in Outspan Medical College back in 13th September 2010. I got enrolled to pursue Clinical Medicine, Surgery and Community Health. I was among the students who pioneered the course at Outspan Medical College. I remember vividly when the college principal advised us that not all students who set up the journey in clinical medicine make it to the final year. The first trimester was like a cartoon network program where we would laugh listening to the strange medical terms. I worked hard to avoid the pitfalls of supplementary exams. It was also through inspiration from my tutors and mentors that I was able to make it through the course.
In the second year I was among the students who vied for the student representative council treasurer position and clinched it successfully. This motivated me since I felt that my fellow students acknowledged I have leadership skills. This was a valuable experience since I learnt leadership and managerial skills. In November 2013 I was awarded a Diploma in Clinical Medicine, Surgery and Community Health and I was posted to Gatundu District Hospital for internship. I managed going through my compulsory one year internship from December 2013 to December 2014. The knowledge, skills and experiences learnt at Outspan Medical College came in handy when I went for my internship. Today I am proud to stand up and declare that I am what I am because of the experience I gained during my training at OMC. It has taught me to tackle life and know that life is all about taking risks. I advise all ambitious people to take up one idea, make that one idea your life - think of it, dream of it, live on that idea. This is the way to success. I was first employed at Baricho Catholic Health Centre in Kirinyaga County as a clinical officer and soon was promoted to the Clinical Officer In-charge position after three months of employment. I worked for a year and in 2016 I received a lucrative job offer from the Lifeline Group of Hospitals in Nairobi. I transferred and was taken to one of their new branch startups.
I started with three to five patients per day but I felt that wasn't enough. I applied all the skills, knowledge and acknowledged God daily so that my employer would feel my impact. I set out to enhance customer experience, improved the quality of service and excelled in communication skills. Soon the number of clients started increasing and today the number of clients ranges seventy to eighty per day. As I sit, I am now overseeing all the branch operations both administrative and clinical. I look back and thank the minds which advised me to take a medical course and to those who saw to it that I graduated successfully.
I am now an active alumni association member of Outspan Medical College. I have set out to mentor other students from the college as a living example of how a solid base developed through a medical course can offer one a promising and solid future."